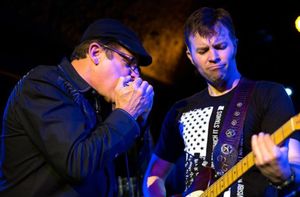 PATRICK "BLUEFROG" ELLIS
"It's not about me...it's about the music."
Frontman Patrick "BlueFrog" Ellis of San Diego, California, has been entertaining audiences around the world since 1997 with his blend of Roots, Americana, Rock and Roll, Southern Fried Rock, and Juke Joint Boogie Blues.  A tribute to the music that made America "GREAT".  His sound has been compared to the "The Doors meets the Rolling Stones", "Kim Wilson meets Led Zeppelin", "Blues meets Rock", and "Dire Straits meets John Cougar".
Combining the Blues harmonica influences of Little Walter, Jimmy Reed, Kim Wilson, Sonny Boy Williams, and Rod Piazza, with the guitar and keyboard styles of SRV, The Allman Brothers, The Doors, Lynyrd Skynyrd, and his own original music, Patrick has gained a solid reputation with his crowd pleasing band.
As a Navy frogman stationed in Germany, Patrick earned the nickname "BlueFrog" while playing the local expat joints.  In 2000 he returned to San Diego, and with Alan Adamson formed the original "BlueFrog and Company" as the Tuesday night "House Band" for Buffalo Joe's in the Gas Lamp quarter of downtown San Diego.
Serving in the Navy as a "frogman" Patrick was once again ordered overseas shortly after 9/11, eventually ending up as member of "Special Operations Command Korea"...and land locked.  Patrick toured for the United Servicemen's Organization (USO) throughout South Korea performing for thousands of U.S. military personnel.
With the release of his first CD "Soulful of Blues" in February 2005, the album received great reviews from Garageband.com, especially for its three original songs "Baby Come Back Home," "Daddy's Going Uptown," and "BlueFrog Boogie".  Patrick's latest release "Under the Influence" (of music) is already creating a stir for the diversity of styles selected.  
Patrick is home and has put away his duffle bag and fins.  He's back kicking up the dance floor with his high energy Blues and Rock and Roll.  As he always says, "It's not about me...it's about the music."